Task 3.4: Seismic Source Zones (GFZ, INGV, AUTH, NERC-BGS, IST, KOERI, NIEP, NKUA, NORSAR/IGC, ROB, MSO, CRAAG)
This task is focused on the development of an area source zone model. A preliminary model became available in May 2010, followed by a second working model released in October 2010 after various rounds of feedback and discussions with the experts working on the other tasks of WP3, and with data contributors. The final version that was delivered v.2.0, has already been updated with additional layers of information such as the indication of the prevailing focal mechanism and of the characteristic seismogenic depth. A further update concerns the zonation of the region encompassing Greece, Turkey and the Aegean Sea.

This model includes 445 zones and consists of two separate parts. The first part includes all crustal seismicity and covers all of the study area. The second part of the model contains zones that cover areas of significant intermediate seismicity. The final zonation is a consensus model involving about 80 experts from the informed Euro-Mediterranean seismological community. This exceptionally large involvement has led to a high degree of homogenization across national borders with respect to previous initiatives.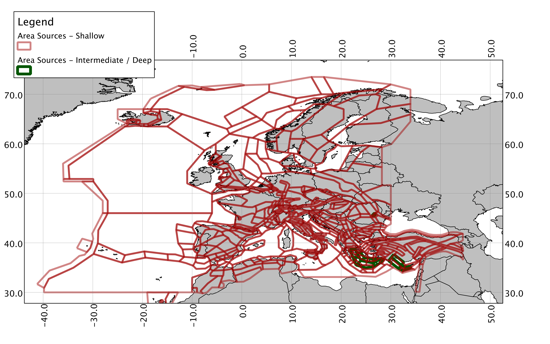 Shallow (red) and intermediate/deep (green) area sources of the Area Source Model branch of the SHARE hazard model